Transfer Valves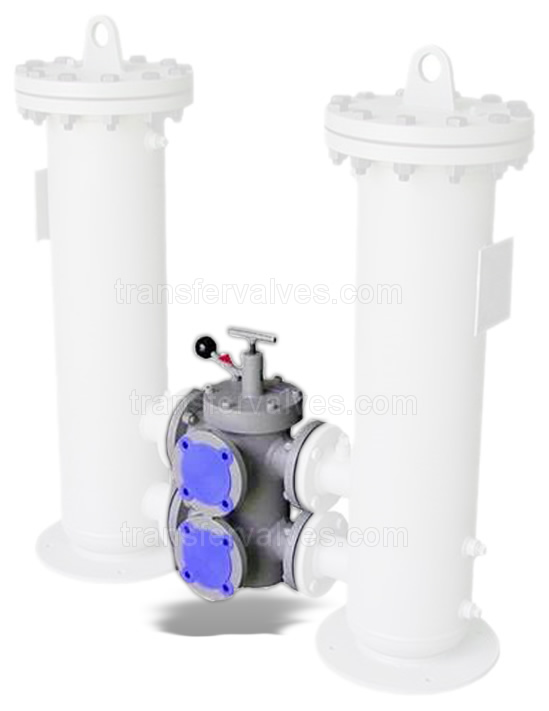 Transfer (or Diverter) Valves are used to cost effectively duplex two external pieces of flow equipment with the least amount of associated piping and space. Simple one-stroke valve operation allows for continuous transfer of flow without interruption. Sizes 1-1/2″ through 8 inch are commonly available in cast steel, 304L and 316L stainless steel. Internal valve plugs are normally provided in stainless steel. A broad range of butt weld and flanged models including A.N.S.I. Class 150 through Class 1500. Cast construction and tapered metal-to-metal valve plug and seat provide durability for long-life. Our transfer valves have been accepted for many years in accordance with A.P.I. 614 and other standards for lubrication oil systems.
Transfer valves are mechanical components used to control the flow of liquids, gases, or other fluids in a piping system. They are commonly used in industrial processes, such as chemical processing, oil and gas production, water treatment, and power generation.
The basic function of a transfer valve is to regulate the flow of fluid between two or more pipes, or to allow fluid to be transferred from one pipe to another. Transfer valves can be manual, automated, or a combination of both, and are designed to meet the specific requirements of each application.
In addition to controlling the flow of fluid, transfer valves can also be used to isolate and drain sections of the piping system, to prevent backflow, and to protect against overpressure and other safety hazards.
Overall, transfer valves play a critical role in the control and management of fluid flow in industrial processes, and are an important component of any piping system.
Northeast Controls offers "No Leak" 6-way transfer valves for redundant filter and cooler circuits. The revolutionary resilient sealing shoe guarantees sure shut off and the retracting actuator allows for zero frictional drag on change over. The design is retractable, fully covered elastomer sealing pads which is important to reduce operating torque. The retraction feature also avoids dragging an o-ring seal around the valve body bore and causing potential seal wear or damage.
Styles of Transfer Valves Offered:
3 Way Same Side Inlet & Outlet
3 Way Same Side Inline Inlet & Outlet
3 Way Opposite Side Inlet & Outlet
6 Way Opposite Side Inlet & Outlet
Value-Added Features Include:
Sealing Pads Ensure No Leakage and Zero Frictional Drag on Crossover
Positive Patented Mechanical Lock-down – No Springs
Exceptionally Low Pressure Drop
Fabricated Steel Construction
Special Configurations and Dimensions are Available
Drop in Replacements for Competitive Valves
Stainless Steel Internal Trim and Moving Parts
Easy Low Torque Operation-Handle Extensions are not Required
No Lubricant Stick Required to Operate
Pressure Ratings to 1500 P.S.I.
Flange or Butt Weld Connections
Compact Open Center Design
Available Valve Sizes from 1-1/2″ Through 8″
No Spectacle Blinds Required for Tight Shut-Off
Designed and Tested as per API Standards 614
Complete In-House Testing for Customer Requirements